In less then a day, the world will be here in Vancouver to celebrate winter sport!!
I'm talking about the 2010 Winter Olympics, right here in my neighbourhood… tomorrow!
WooHoo!
What am I talking about?? By the time I upload this post and you read it, it will be February 12th… that means that it's already tomorrow and the Opening Ceremonies are TODAY!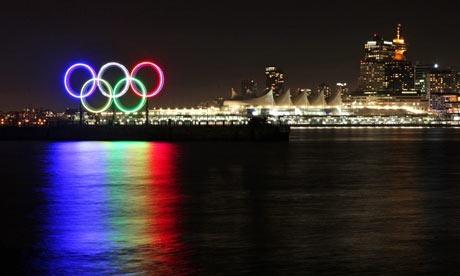 I'm so excited!!!!!
Unfortunately Brian and I are not going to any events (what we'd give for a pair of Gold Medal Hockey game tickets!!), but there will be a lot of celebration and fun going downtown that we WILL participate in… and I can't wait!
Speaking of celebrations, just the other day (Tuesday) the
Olympic Torch Relay passed through my community – New Westminster – and Brian and I joined the crowd.
What fun!
And we got to wear some of our Olympic gear… I LUV my mittens!
Everyone was having such a good time :-)
And then…
the Torch arrived!
Above, smaller photo… Source: Flickr – Photographer: Ray Van Eng
and the Community Cauldron was lit…
Since we're a shelter blog, I thought I should share a photo of one of New Westminster's heritage homes, all dressed for the Flame to pass by :-)
Photo Source: Flickr – Photographer: Ray Van Eng
I absolutely had to share these two photos… my friend Deena was invited by her friend Laura (pictured) to share in her Olympic Torch Relay experience (early February). The first photo was taken just after Laura's torch was lit and the second as she was running her route. The look of joy on her face brought tears to my eyes the first time I saw these photos!
Deena shared that while Laura was running she kept saying, "I don't want this to end! I could just keep going and going! This is fantastic!!"
What an experience!
Yesterday was quite a Torch Relay day… take a look at this!
Can you imagine?! I can tell you honestly because I've done it… riding INSIDE this gondola is thrilling enough for me!!
And how about this? Surfing at Long Beach in Tofino!! This was early in the Relay – maybe about day 3.
The Olympic Torch Relay has traveled for 105 days, culminating in the lighting of the Olympic Cauldron tomorrow, day 106!! It's passed through more then 1,000 communities in every corner of Canada – that's about 28,000 miles!
This photo was taken in Kelly's home town – and our nation's capital – Ottawa… waaaay back east!
And to finish off my own Torch Relay, singer Sarah McLaughlin carrying the torch this evening (Thursday) as it travelled to a great big party down town!!
Will you tune into any Olympic events over the next 2 weeks? I hope you do!! We're so very proud of our city and I know that everyone who joins us in this wonderful event – in person or on TV – will have the time of their lives!
GO CANADA GO!!
The unfinished and "ugly" in-construction/renewal look of the historic Georgia Street Hotel is covered up with a massive Canadian flag!! Love it!!